We are the best in tattoo removal, you cannot get any better. Why, because we charge very low price per session as we think it is better to have more sessions without damaging the skin and creating blisters etc. We could turn up the power to remove the tattoo quicker, but it will result in more damage to the skin and discomfort to you. We have tried and tested twenty numbing creams and found the best. In the past, it has been known to be very painful to remove tattoos and that's why people do not continue to remove the tattoo. The numbing cream we use, is so good, there is very little pain if none. Out of one to ten, it is one or two depending on first session. After that it is one or nothing. In fact I nearly fall asleep on doing three medium size tattoos.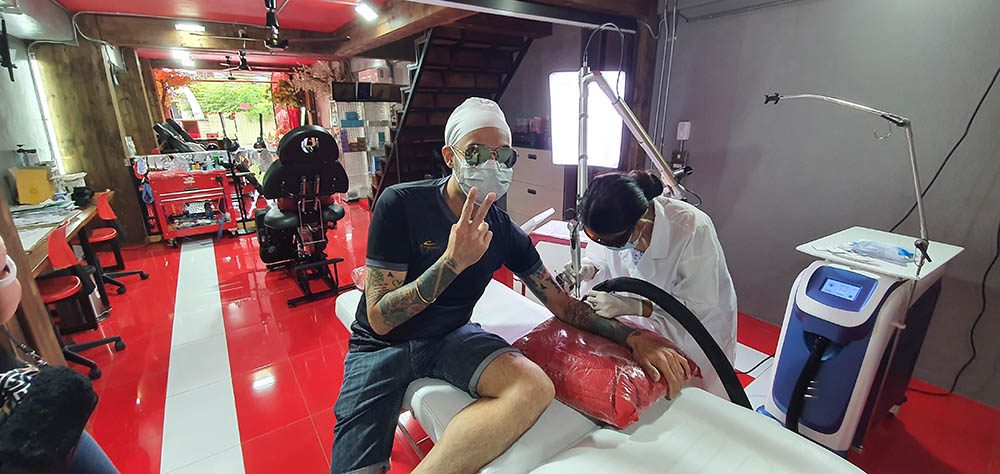 We remove your tattoo at the lowest price in Bangkok Thailand.
We have the latest tattoo removal machine.
Our Computerized Actively Q Switched ND Yag lasers are classed as the gold standard.
More advance and more powerful than a Passively Q Switched ND Yag lasers.
Watch the video below to show how good our tattoo removal artist are. 
We will work with you to get the best results, and what we mean by this, we will remove your tattoo at the right pace and not at the expense of damaging your skin.
Look below how much we removed. One session and 3 weeks later.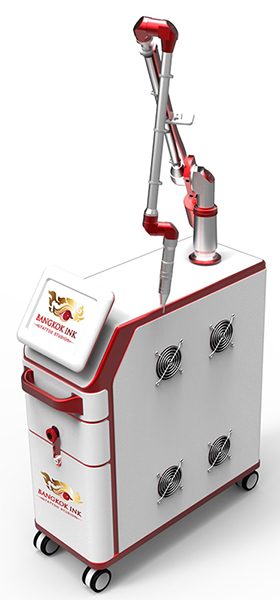 It is also a Picosecond laser and not the nanosecond laser tattoo removal machine. This refers to the speed the laser runs at. On and then off per second. 
One Nanosecond is a billionth of a second, and one picosecond is one trillionth of a second. That's pretty fast. The idea behind that is the laser is on for a shorter period, essentially making the pulse duration 10x faster, and still having equivalent system energy (i.e. .9-1.0 Joules). This reducers the heat in the skin and therefore the damage to the skin area around the ink. It also allows the tattoo removal technician  to use more power and therefore gives the better results.
This is a commercial duty machine and has a built in water cooling system to keep the laser system stable.
 Everyone has different skin. Light skin, Dark skin, Sun damage skin, young skin, old skin, the list is long.
We will start the first session with lower laser power to see what happens. Then we will adjust the power to suit the next session. We don't want anybody to have a bad experience.
The first session is going to be the most re action your skin will do, you may get a lot of swelling. After that things will get a lot better. It all depends on the ink. The darker the ink is, the more re action happens.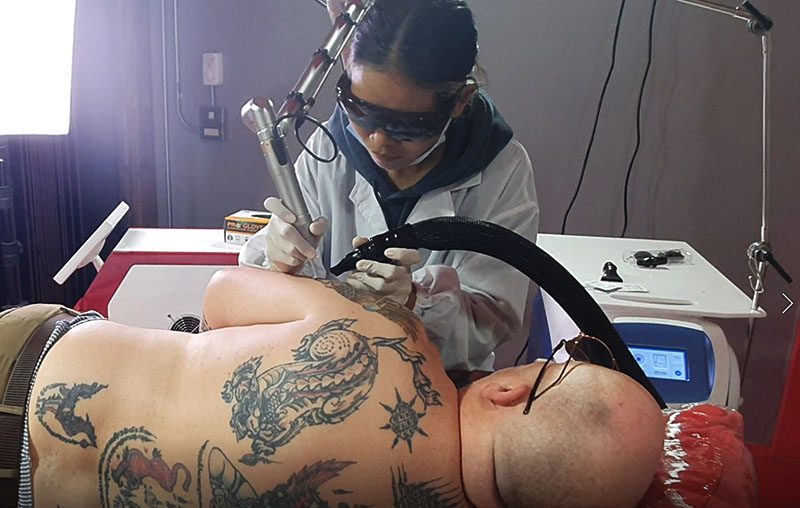 The lowest prices in Thailand and probably the lowest price you can get anywhere.
Laser Tattoo Removal per session start at
800 Baht for a small tattoo or trial test area of 2cm x 2cm to see about pain and results and then you can move onto larger area. Numbing cream is advised.
1300 Baht for medium size tattoo 8cm x 8cm
1900 Baht and you can have as much done as you want in one session.
Free consultation at Bangkok Ink Clinic