location maps and directions below.
Call us on 0800071126 or +66 800071126
BangkokINK
Our Location Map
How to get here
If you coming by taxi or tuk tuk, give your driver the following adress and directions in thai: บางกอก อิงค์ แทททู สตูดิโอ 10/6 ซ.สุขุมวิท 33 แขวงคลองตันเหนือ เขตวัฒนา กรุงเทพมหานคร 10110 โดยรถยนต์ จากถนนสุขุมวิท เข้าซอยสุขุมวิท 33 ประมาณ 200 เมตร เลยต้นไม้ใหญ่ ร้านอยู่ทางขวามือในซอยก่อนถึงเซเว่นแรก สังเกตุป้ายสีขาวตัวหนังสือสีแดง Bangkok ink tattoo ประมาณ 50 เมตร ขวามือ

Address in English:- 10/6 Soi Sukhumvit 33, Khlong Tan Nuea, Watthana, Bangkok 10110

Below the studio is shown on google active map and the studio is a 4 minute walk (350 meters) from BTS Phrom Phong Sky Train Station.
And below, there is non interactive picture of the way to get to the studio from known places.And below, there is non interactive pictures of the way to travel to the studio.

BTS Sky Train at Phrom Phong and MRT Subway Train at Asok.

When you get to Sukhumvit 33, just walk into the street and go past Lotus Hotel on the left and we are on the right side of the street. It is very easy as all Taxi drivers know where Sukhumvit 33 is.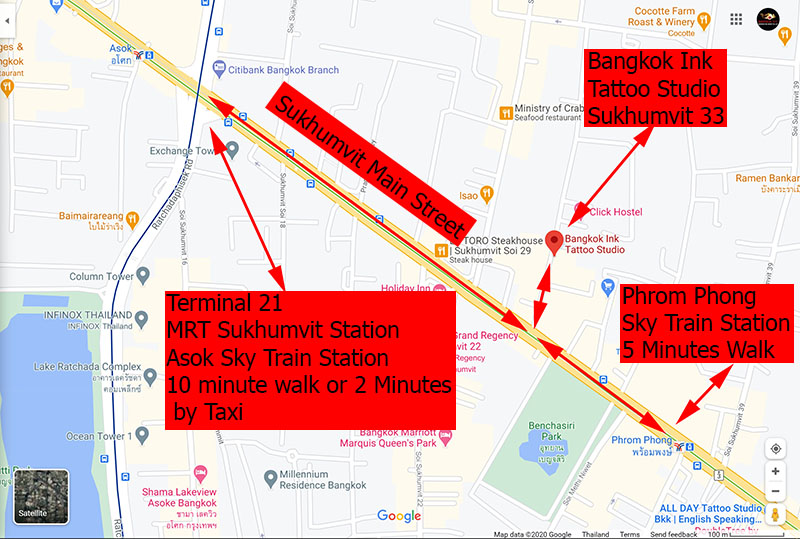 Studio Address
10/6 Soi Sukhumvit 33, Khlong Tan Nuea, Watthana, Bangkok 10110
Studio Address in Thai
บางกอก อิงค์ แทททู สตูดิโอ แอนด์ สกูล 10/6 ซ.สุขุมวิท 33 แขวงคลองตันเหนือ เขตวัฒนา กรุงเทพมหานคร 10110
Phone Number
095 386 3021 or +66 953 863 021
Open Day and Times
open from Monday to Saturday 11 am - 7 pm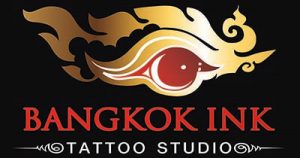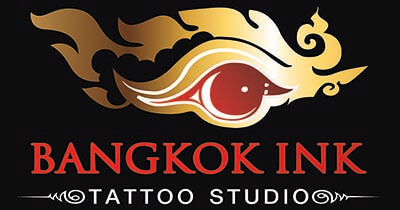 Links to Bangkok Ink Tattoo Group Websites and Links to Associates in Business