UK Tour with Grand Master Ajarn Ohr,
Thailand's Number One Sak Yant Master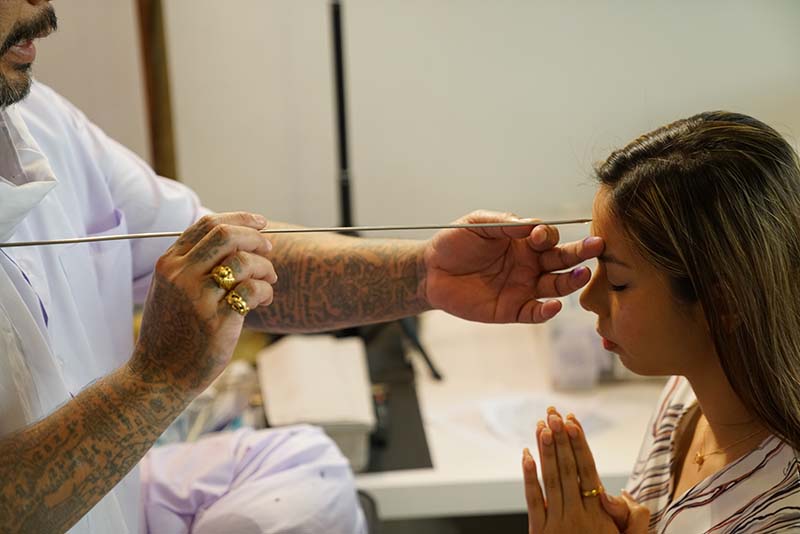 Thai Tattoo Sak Yant Magic
Presents Grand Master Ajarn Ohr
U.K. Visit 2021
LONDON, 29th of April to the 5th of May
at Happy Sailor tattoo studio 
MANCHESTER, 8th and 9th of May
at Sacred Art Tattoo Studio
WIGAN, 7th and 10th of May
at Skin Graffiti Tattoo Studio
To our past customers and future customers please contact us for information at


In the past, we toured around the world which included the USA, Australia, China, Sweden, Netherlands, England, Taiwan, Belgium, Singapore, Malaysia, etc. Due to the situation at moment we are just visiting England.
Grand Master Ajarn Ohr who trains many disciples to become masters of Sak Yant Thai tattoos. We have two of his trained Masters working at our studio. Master Ajarn Aut and Master Ajarn Sak 
Ajarn Ohr has many thousands of disciples.
Many women take part in the annual Wia Khroo and have lots of Thai Tattoos or just want to get the blessings from Grand Master Ajarn Ohr
There is only one bigger Wai Khru in Thailand than Ajarn Ohr and that is Wat Bang Pra Temple.  Wai Khru is to show respect to the Master teacher.
Grand Master Ajarn Ohr being interviewed in Happy Sailor Tattoo Studio London.
Hah Taew 5 Lines Sak Yant Thai Tattoos
The Hah Taew is by far the most popular Yant among Thai's and foreigners. It is a Yant that encompasses every aspect of one's life and it is for this reason it is so popular. Anjelina Jolie had this Yant on her shoulder as her first Yant. She has since received more. The Hah Taew represents 5 yant's / Katas of magical spells. Yants / Katas are chants, and the chants are performed, over and over again to invoke a state of the mind. The mind can create magical spells onto the Yants and Katas. They are chanted 108 times (108 means a lot in Thai, it's a saying) before entering the high level of meditation. Each one will be done individually and the following magical spells have been cast on each line below.
Videos of AJARN OHR Tattooing on Tour
Ajarn Ohr in his Sam Nak (tattoo Studio) doing Hah Taew 5 lines
Reporter Lisa Skerret share her first Sak Yant experience
Khata writing around old tattoo hand poked by Ajarn Ohr
Ta Kai Paetch 5 line umberella hand poked by Ajarn Ohr
Hanuman Yant hand poked by Ajarn Ohr
Paed Tidt hand poked by Ajarn Ohr
Look Tagror hand poked by Ajarn Ohr
Hah Taew + Gao Yord + Paed Tidt hand poked by Ajarn Ohr
Ganesha Yant hand poked by Ajarn Ohr
Ajarn Ohr doing blessing before, on and after the tattoo
Wai Khru 2016 at Ajarn Ohr
Neck Tattoo Unaalome hand poked Ajarn Ohr
Sleeve hand poked by Ajarn Ohr
Sleeve hand poked by Ajarn Ohr
Sariga Koo Yant hand poked by Ajarn Ohr
Phra Ong + Hah Taew + Gao Yord hand poked by Ajarn Ohr
Hah Taew hand poked by Ajarn Ohr
Gao Yord + Wrist Bracelet hand poked by Ajarn Ohr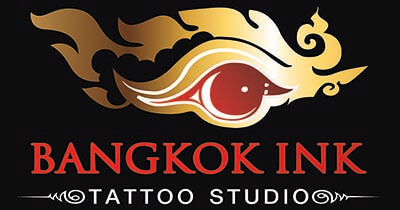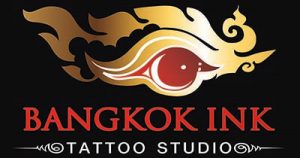 Bangkok Ink Tattoo Group Websites
Links to Associates in Business